Deproduction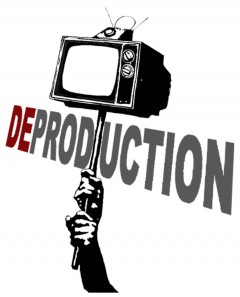 Deproduction is a nonprofit charitable organization which exists to put the power of media and technology in the hands of the people in order to enable every person to actively engage their community and bring about the change they wish to see in the world. Deproduction undertakes four primary and inter-related approaches in pursuit of
this mission:
Denver Open Media: We provide affordable media and technology equipment access, ensuring that all members of the community have access to the tools they need to produce media and share their voice through the most effective medium available.
Civic Pixel: We provide web and technology development and consulting, applying powerful internet and design to further the mission of nonprofits, community-focused organizations, and individuals in an effort to leverage developing technologies to serve noncommercial interests.
Professional Video Production Services: We provide noncommercial organizations and movements with top-quality video and new media services; giving under-privileged organizations and individuals a stronger voice in the global social dialogue.
Community Media Education: We provide affordable education in media and technology for all communities, recognizing that a society where all members are active, engaged, and reaching their full potential to contribute requires equal access to top-quality training and education.
Project Description:
The Open Media Project, sponsored by the Knight Foundation, is aimed at helping Public Access TV stations, Community Technology Centers, Public Libraries and other community institutions leverage the power of cooperative, open-source solutions to build a new kind of media Network.
Public Access TV stations across the country are a wonderful, but under-utilized, resource for community media, and regulations are changing such that they are being forced to evolve or disappear. The project began in Denver, where the city had withdrawn all operating funding for their Public Access TV station, and Deproduction developed a model that would enable the community to control most of the work of the station. With a broadcast schedule determined by viewer voting, permissions-based registration and equipment reservations, and more, the Open Media model is being tested as a possible solution to bring community technology centers together as a cooperative network, similar to the other major media networks, but with a user-driven and distributed, hyper-local structure that will enable it to have a greater impact than any traditional organization could hope for.
The tools and business models that make this approach possible are coming into their own right now, and being leveraged by grassroots organizations to reach an entirely new level of relevance in their communities. Following the lead of organizations from Wikipedia to Current TV, this model increases community engagement through the media, and puts the power in the hands of the people like never before.
The Open Media Project is one piece of a multi-pronged approach to put the power of media and technology into the hands of the people. We believe in the power of local communities, and as we focus on Denver, we're designing the tools and the model to be replicated and revised to suit diverse situations. We can best serve our community by collaborating with like-minded organizations and individuals world-wide, experimenting with emerging cooperative approaches, new business models, and new ways to sustain grassroots movements.
We look to CTC Vistas to develop connections between our development team and the communities they serve. In regards to the Open Media Project, this means building strong systems for handling and documenting communication as well as educating participants on the framework. An example of the space maintained by our current Vista can be seen at http://groups.drupal.org/open-media-project, as well as the internal documentation site at http://om.civicpixel.com. Both of these systems continue to provide the backbone for our project, but as more stations become involved we are having to update the existing systems as well as develop new ones to help groups like the recently formed (community driven) documentation and testing teams stay organized and transparent to the larger community. These contributions create the foundation for the success of this project and ensure that our development work is not done in a vacuum, while also providing a CTC Vista with experience in technical development, community relations, working with other organizational partners and communicating with constituents.
Project Tangibles:
The project already has tangible open-source contributions. Within the year, we plan to have a full set of Drupal modules released and an install profile that can simplify the process of implementing and contributing to our work. We also hope to share the model, successes and failures of experimentation, and documentation of our approach.