Oakland Technology Exchange (OTX) West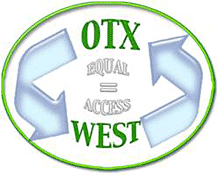 OTX West is dedicated to eliminating the digital divide in Oakland, California. We seek to enhance educational opportunities and increase the accessibility of technology to low-income members of our community. OTX West recognizes the need for people of all socioeconomic and cultural backgrounds to gain access to the digital word by owning a home computer and acquiring technological knowledge and skills in steps toward individual self-sufficiency and empowerment.
The organization also employs an environmentally sustainable, re-use model by refurbishing donated personal computers and other technological equipment,* and supplying them to students who successfully complete our training class. We take proactive measures to directly confront persisting inequalities by teaching basic computer skills to parents and children and providing ongoing technical support free of charge.
Project Description:
OTX West is attempting to develop a comprehensive database of local companies and organizations that provide affordable technology-related services to low-income members of our community. The public database, which will be available on the website, digitalinclusionoakland.org, will categorize these organizations based on the specific technology services they provide. The goals of the centralized directory are to 1. enable individuals to pursue opportunities according to their particular technology-related needs and interests; and 2. enable community technology organizations to network and share resources with one another and with their constituents. The database will also include a directory of free WiFi locations throughout the city.
In our experience working directly with thousands of people in Oakland, we have recognized a growing need for an easily accessible public directory of organizations that offer narrowly tailored programs. We receive countless inquiries from people seeking to acquire more knowledge and skills in other areas of the technology field. For example, the specializations of local technology-oriented organizations incorporate a wide variety of educational courses and workshops, including, but not limited to, multimedia communications and entertainment; advanced digital storytelling; office-based software; (i.e., Microsoft Office Suite); computer repair; web design; and education for non-native English speaking populations. Unfortunately, we do not have an efficient referral service or a means of adequately responding to the growing demand of Oakland residents who wish to expand their technology expertise.
With the "Digital Inclusion" web site, OTX West hopes to end the digital divide by providing access to technology training in as many subject areas as possible. Currently, OTX West provides access to computers, but this service alone is not enough to successfully end the digital divide. By contrast, collaborating with all technology centers in Oakland and disseminating information about their services, will give the community the necessary tools to equip them with the educational opportunities to better their lives. Other community organizations and companies have similar missions; however, they all work as separate and distinct entities, rather than as part of a collective mission. Many of these organizations are not aware of each other's existence, and are not independently able to provide a full range of technology services. Furthermore, it is difficult for individuals in the community to locate the organizations that would cater to their specific technology needs.
Our web site will facilitate access to technology resources by connecting organizations in one convenient database, making it the "411" of community technology needs.
Project Tangibles:
This project will demonstrate the importance of networking among nonprofits working in similar fields. It will enable independent organizations with distinct technology resources to coordinate their efforts to provide broad-based educational opportunities. OTX West plans to inspire other organizations to embrace the concept of ending the digital divide by working with partner technology organizations in a collaborative investment. The creation of this project will be document from start to finish. This information will then be compiled into a simple step-by-step guide for organizations that are interested in creating a similar project. This information will be accessible on the website.
Supported Projects
Outreach and Website Development
Creating a successful, user-friendly, all-inclusive database of technology organizations and WiFi locations will require a time and effort commitment that is beyond our means at this time. A CTC VISTA member will help us expedite the process of developing the database, and allow us to finally get this project off the ground.
- Research and catalog organizations that offer technology services
- Establish and manage relationships with technology organizations
- Develop and maintain the "Digital Inclusion Oakland" website
- Help update the OTX West website
The corps member created the website getconnectedoakland.org. She researched computer related resources (i.e. education and training, tech support, free internet hotspots, where to purchase or acquire a free refurbished computer) in Oakland and the surrounding area. This information is now available on the website. The member has also spent time creating fliers and other marketing tools to get the word out about the website to the citizens of Oakland. The member has also sat in on computer classes taught by other organizations and shared information with them about open source software and other free online resources that can enhance their current curriculum and training.
Now that the website is up and running, we can now refer our clientele to the website for any technology needs. We also use the website to locate resources and recommend them to the community we serve. The website will be maintained by staff members at OTX West. Former VISTA member, Jasmine, has been hired and will be one of the main people maintaining the site.
Jasmine also created online Google forms for our volunteer registration and computer class registration and sign in. We used paper registration forms and needed an easy way to convert our paper forms to online forms for easy access.
---