The Children's Partnership/Tides Center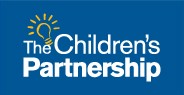 Location:
Santa Monica
,
CA
The Children's Partnership (TCP) is a national, nonprofit child advocacy organization working to ensure that all children – especially those at risk of being left behind – have the resources and the opportunities they need to grow up healthy and to lead productive lives.
We focus particular attention on the goals of securing health coverage for uninsured children and ensuring that the opportunities of digital technology benefit all children and families. With input from our advisors, we advance our goals by combining national research with community-based activities. We then develop policy and advocacy agendas to expand these demonstrated solutions to underserved communities around the country.
In this way, TCP serves as a "research and development arm" for the children's movement and expands the reach of child advocacy to new issues and new audiences.
Supported Projects
Community Organizer
Goal 1: Engage underserved communities in the policy-making process to address local issues
Jessica has used technology tools to facilitate organizational communication and information gathering/sharing at TCP. These tools included an Intranet, the Vienna newsreader and a del.icio.us account for the organization. This work has enabled TCP to stay on top of cutting edge issues in the field of youth and technology.
She has also made major contributions in researching, writing, editing and design work for some of our products. This has helped TCP achieve its mission of advocating for digital resources and access to benefit the nation's 73 million children and youth, particularly those who are low-income or underserved.
Jessica has also completed several projects for CCTPG, working towards meeting the broader goal of advocating for all communities' access to broadband and advanced technologies and the benefits they offer.
Working with several colleagues, Jessica helped create the new CCTPG Web site and edited, updated and posted a majority of the documents currently available. She uploaded the contacts currently in the CiviCRM and created an automated sign-up form for new members. She was also responsible for many listserv and Web site updates and helped with several outreach efforts, including a videoconference. She gathered information for an online map of CTCs and helped with CCTPG's network restructuring.
One of the measurements of Jessica's success was whether CCTPG won any legislative victories while she was serving. Of the four pieces of legislation CCTPG focused on last year, three of them passed.
---