Urbana Champaign Independent Media Center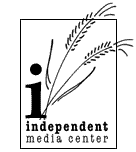 In its tenth year, the Urbana Champaign Independent Media Center (UCIMC) is a grassroots organization committed to using media production and distribution as tools for promoting social and economic justice. The UCIMC fosters the creation and distribution of media, art, and narratives emphasizing underrepresented voices and perspectives, and promotes empowerment and expression through media and arts education. To this end, we own and operate a Community Media and Arts Center located in the historic post office building in downtown Urbana, Illinois. The Center includes a radio station, media production studios, a performance venue, art gallery, artist in residence studios, a library, public access computer labs, bike repair center, and meeting spaces. The UCIMC runs a 24/7 low power radio station, publishes a monthly newspaper, operates a daily website, and hosts numerous community listservs, all freely available to the community.
The UCIMC is strongly supported by and embedded in communities with little access mainstream media. The roots of poverty lay in a lack of access to participation in the decisions that affect one's life, including the decisions about the allocation of resources and power. The UCIMC works to eradicate poverty through empowering residents to "become the media" - amplifying unheard voices, inspiring and uniting those who work for change, and helping to shift and reframe public discourse. For example, residents pressing for the clean up of a toxic waste site in their neighborhood used UCIMC-facilitated investigative journalism and organizing to get the city and EPA involved in cleaning the site.Over 44,000 free books have been shipped to Illinois prisoners through UCIMC's Books to Prisoners program. The UCIMC is an official Community Technology Center in Illinois and is a key partner in our community's NTIA application that was just awarded $22.5 million for broadband infrastructure.
Supported Projects
Development Advisor
The VISTA will reassess current grant writing and fundraising plans and then develop a comprehensive sustainable funding plan for all UCIMC programming, to include all Broadband initiatives and newly developed programs. The VISTA will also train and support UCIMC members in implementing this plan.
The three central projects for our DA are
(1) organizational fundraising support
Austin has executed a number of projects in this arena, including a holiday appeal, a very large Fundraising & Volunteer Engagement drive (currently underway), grant-writing, database management, AmeriCorps program support, membership re-visioning, and many other projects.
(2) broadband grant support
Because of certain contingencies of the $22.5 million in federal broadband stimulus grant awarded to UC, the fundraising component of this project disappeared, although Austin has met with the local broadband policy team, secured the IMC's position as one of the first "hot spots" of the new broadband network, and is currently developing a proposal for IMC computer training opportunities in coordination with members of the policy team.
(3) internal fundraising training:
Austin established the IMC's first fundraising (and outreach) group, Foundations, which is aimed at creating a more fundraising/development-aware and -engaged climate the IMC, has done much for this end. He is still in the process of coordinating group trainings with local experts. He has provided fundraising support (particularly w/r/t events and grant-writing) for IMC members.
Austin worked at the UC-IMC during a period of great organizational change (a period which is continuing). His participation, support, and vision were crucial in terms of not only day-to-day support of our members but of providing new ways of thinking about our organization - what we do, how we can be improved, what is and isn't working. He planned two appeals and documented the appeal system, started a needed collection of all Finance & fundraising documents on our Wiki, collaborated on multiple successful grant applications, helped with securing a new Treasurer and revising our Finance group and its practices, planned the creation of a new website more geared towards development capacity, secured the IMC's core participation in the new community fiber-optic network granted by the federal government, represented the Finance group and articulated its labor and concerns at IMC administrative meetings, and supported numerous projects and initiatives. There is now documentation and infrastructure in place to support the financial work of the UC-IMC. Austin is leaving somewhat in the middle of a re-visioning process for our organization, so Austin's work will contribute to a longer haul of changes in the organization directed by the IMC Steering committee.
Austin was not able to adequately reorder our online database and donations system. There were a series of interrelated tasks that Austin was charged with which will be taken up by an Illinois state AmeriCorps direct sevice member whose focus next year will be on membership development and outreach: including Paypal/database coordination, listserv/QuickBooks/database coordination, and sign-up forms on various sub-sites. One of the key barriers is our lack of a full-time web support person: relying on volunteer(s) has its obvious benefits, but there are downsides, as well, which became evident during our Development Adviser's attempt at implementing these changes. Austin was in an interesting position, as someone building capacity at a volunteer-run organization. While being an effective leader and a great brainstormer of new ideas for the organization, he was constantly regulated by the actually existing participation within his initiatives. So certain projects did not succeed because there wasn't a critical mass of participation, even though it was well within the bounds of his VAD and his execution was good.
---