BTOP Applications and Awards by State
We crunched some of our BTOP proposal data over the weekend and all this week we'll be sharing some interesting data about Round 1 and and some recommendations for Round 2 applications. It's cat-and-mouse with the NTIA since as soon as we analyse the data, they make some new announcements. A plus at least is that every new announcement implies that we're moving forward on awarding money to projects and communities.
The following data is as of February 18, 2010, though some new announcements (and another $350 million) were made that very afternoon and are not included here.
This analysis is done in collaboration with the New America Foundation's Open Technology Initiative.
Where did we start?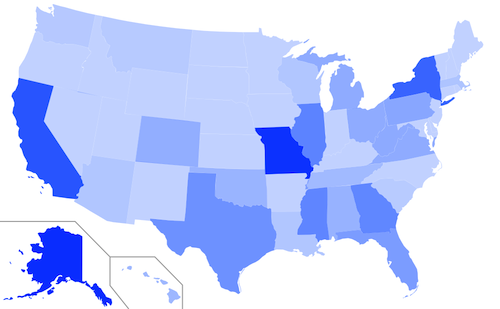 The colored map above shows total BTOP grant application amounts by state. Darker states requested more money for projects within that state, lighter states requested less. For example dark blue Alaska applied for $954 million of BTOP project grants (the most) while light blue Rhode Island only $31 million dollars of grants (the least). These are not awards, but initial applications.
What has been awarded?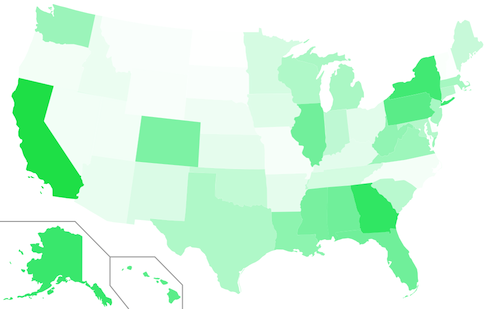 As you can see by mapping the dollar amounts awarded per state, there is still a broad swath of America awaiting funds. To be fair, there are still 550 proposals pending that should be announced by the end of the month.
Where are applications pending?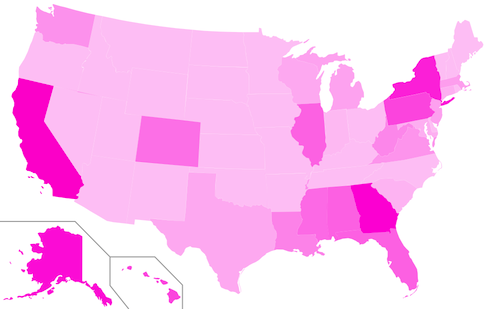 During the past 2 months, the NTIA has informed more than 1300 applicants that their applications would not be funded. This still leaves a good number of applications and some interesting shifts in where grants are being requested and could be funded.
Some notes: The numbers above are unadjusted grant dollar amounts. It would probably be more meaningful to adjust them per-capita, or even by rural population or population living under the poverty line. Also, multi-state projects have had their requested amounts divided equally between those states.