Citizens Committee for New York City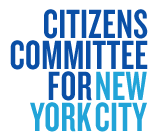 Citizens Committee for New York City stimulates and supports self-help and civic action to improve the quality of life in New York City and its neighborhoods.
We believe that residents are uniquely situated to define and act on the issues affecting their communities. When provided with modest support, resident-led volunteer groups can effectively mobilize community resources to improve quality of life. Citizens Committee supports their efforts by offering workshops, grants, training, networking events, helpful publications, a lending library, a meeting space and one-on-one assistance. We currently support over 127 resident-led efforts in all of the five boroughs.
Citizens Committee was founded in 1975 by Osborn Elliott and Jacob Javits to encourage ordinary New Yorkers to volunteer to fill the gaps left by the city's cutbacks during fiscal crisis. Today, this spirit of volunteerism and local engagement still drives our work.
We are fortunate to live in a city where people feel connected to their neighborhoods and genuinely want to make a difference, but volunteers can't do it all alone, and that's where Citizens Committee for New York City and our supporters make the crucial difference.
Supported Projects
Long Island City CTC Outreach
To strengthen the capacity of the Long Island City CTC by improving self help materials, supporting neighborhood volunteers use of technology, and conducting a needs assessment. The VISTAs will also help the extend the organizations reach to a more diverse constituency of new Americans living in New York.
- Support and organize a more robust outreach campaign targeted at local block, tenant, and neighborhood association members to encourage use of the CTC
- Schedule training sessions and develop self-help materials related to getting neighborhood and civic groups online
- Conduct an information needs assessment of the information and technology needs and interests of 60 neighborhood groups located in low-income, immigrant dense areas of New York City to determine which self-help materials are needed and how they are most likely to be used
- Develop and design five new top sheets based on the specific needs of immigrants
---