Deproduction/Denver Open Media Foundation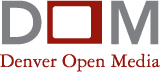 DOM is the culmination of the Open Media Foundation's innovative 3-part vision for putting the power of the media in the hands of the community. Designed to ensure all communities have the media and technology resources they need to engage in local and global communications, DOM offers state-of-the-art video equipment, as well as media distribution via the Internet and our three community-programmed television channels.
Denver Open Media is not an independent entity, but a project supported by the Open Media Foundation, designed to be managed by the community. The Open Media Foundation is a 501(C)(3) nonprofit corporation dedicated to putting the power of media and technology in the hands of the people. In 2006, OMF modified its Board of Directors to permanently include two DOM member representatives.
Supported Projects
Open Media Project Developer
We look to CTC Vistas to develop connections between our development team and the communities they serve. In regards to the Open Media Project, this means building strong systems for handling and documenting communication as well as educating participants on the framework.
1. Manage documentation of the Open Media Project, interacting with developers and end-users to ensure that documentation provides the desired level of accessibility and access to our tools and model for organizations hoping to replicate our approach.
2. Work with developers to assist in the integration of their tools at Denver Open Media and partner stations.
3. Work with clients and members to test and provide feedback on the tool-set.
#1. All Open Media Project modules released and updated, including the install profile available at http://www.drupal.org/project/open_media. Along with the module updates, John spent significant time educating the community on the various pieces, as well as improving the documentation available at http://www.openmediaproject.org for the entire module suite. John was helped in this endeavor by our development team.
#2. John helped us work through our first official Open Media Project consulting endeavor with the Bay Area Video Coalition. While this project did not succeed to completion, much of the process was documented by John including budgets, meetings, objectives, successes and failures which is already influencing our subsequent projects.
#3. Now that we are a few months beyond the end of John's vistaship, I can say with confidence that we succeeded to a large extent in community adoption of the toolset. At this point, 3 of the original beta partners are continuing to implement and further develop the Open Media Project tools and discussion continues weekly at http://groups.drupal.org/open-media-project. A good portion of the success should be attributed to John, as he served as the project manager and primary community contact over the past two years.
John did an excellent job of providing a bridge between our technology department and our own Public Access Television station (Denver Open Media). The relationship started as John began volunteering and participating at DOM with our station director. This relationship continued to improve over the two years John was here, and many systematic changes were made that continue on – the most significant are our producer website training sessions, as well as a consistent focus as a department on website usability.
---