Nonprofit Technology Enterprise Network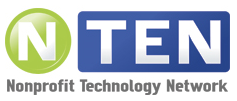 NTEN aspires to a world where all nonprofit organizations skillfully and confidently use technology to meet community needs and fulfill their missions.
We are the membership organization of nonprofit technology professionals. Our members share the common goal of helping nonprofits use all aspects of technology more effectively.
We believe that technology allows nonprofits to work with greater social impact. We enable our members to strategically use technology to make the world a better, just, and equitable place.
NTEN facilitates the exchange of knowledge and information within our community. We connect our members to each other, provide professional development opportunities, educate our constituency on issues of technology use in nonprofits, and spearhead groundbreaking research, advocacy, and education on technology issues affecting our entire community.
Supported Projects
Community Outreach and Evaluation
Karl has proved indespensible in helping our organization understand who our membership is and how we are serving them. With direction, Karl has developed a weekly and monthly statistics aggregation (our dashboard) that illustrates our level of community support and involvement. He has also developed many systems in our database to help us better communicate with our community through direct email and web publishing.
---