Neighborhood Technology Resource Center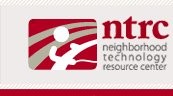 Founded in February 2000, the Neighborhood Technology Resource Center's mission is to create public spaces where technology can be experienced and serve as a catalyst for individual and community capacity development. The NTRC accomplishes this mission by creating programs in collaboration with residents that are practical, relevant and contribute to their digital proficiency. Our long term vision is that local citizens, community organizations, churches and businesses will have access to and the necessary knowledge of digital technologies and its benefits for the purpose of individual and community development.
Our programmatic focus has been to use digital technology to: (a) increase literacy and educational competency among youth, adults and organizations; (b) enhance training, employment goals and outcomes for long-term career development; and (c) strengthen organizational infrastructure to facilitate growth and development.
The Neighborhood Technology Resource Center (NTRC) has three locations in Chicago's North Lawndale, West Town and Grand Boulevard communities. At NTRC North Lawndale we have 20 computer workstations with T1 Internet access. Located in the Northwest Tower Apartments, NTRC West Town has twelve computer workstations connected to the Internet through a Digital Subscriber Line (DSL), while NTRC Grand Boulevard hosts over 45 computers for public use.
Supported Projects
Chicago Digital Access Alliance Marketing and Outreach
For the past year Chicago has been focused on questions of wireless connectivity, community benefits and digital excellence. Laura worked in the Chicago Digital Access Alliance community education campaign for her Vista term.
Laura assisted with preparations for two significant events: the Community Media Summit and the Community Wireless Summit. Both events brought out grassroots community activists and leaders in the field. Public discourse on digital divide issues moved significantly nationwide towards a language of "digital inclusion". The terminology of digital inclusion is advanced in a top-down and paternalistic manner. The grassroots and more explicitly open discourse on digital excellence has allowed the public to set the bar higher and to explore solutions to local problems that do not presuppose a technology or a topology, and which do not impose a top-down solution. The Chicago grassroots statement on Digital Excellence has been picked up by the City elite in a major public document, in large measure a result of our public education campaign that was facilitated by Laura.
---
Marketing and Outreach
The broad focus of Kristen's work over the past year was marketing and public relations—helping to make NTRC and our programs more visible in the community.
Kristen produced a variety of written materials and marketing collateral for potential partners, funders, and clients. She assumed responsibility for our quarterly newsletter; created and distributed flyers, postcards, and brochures for all three sites; and provided the photography, design, and some of the written content for our annual report. In addition to Kristen's writing and design work, she organized several events designed to increase public awareness of our offerings, including job fairs and open houses. Finally, Kristen helped NTRC evaluate and improve its community engagement efforts through focus groups and an internal SWOT analysis. Although marketing was the main focus of her VISTA year, Kristen contributed to NTRC's day-to-day operations by representing the organization at meetings and outreach events; contributing research, editing, and proofreading services; and performing or creating interviews, surveys, and other workforce development tasks. Kristen's impact on the organization can be seen in three major ways: first, NTRC marketing materials have stepped up several levels because of her efforts; second, NTRC hosted a successful job fair in August 2007 with over 100 participants; and third, NTRC produced a visually impressive and content rich Year 2 Report for our Chicago Housing Authority funded "Make IT a Priority" Training Program Report in the Spring of 2007.
The best story to demonstrate Kristen's contributions to NTRC is to tell you what we did when Kristen's year-long commitment was complete. Despite the fact that prior to her arrival, the position that Kristen filled did not exist, NTRC offered her full-time employment at the termination of her VISTA year because during that year, Kristen proved herself to be a vital member of the team and not someone we were willing to give up. Other than that, most of Kristen's contributions are best viewed, rather than told. The dramatic improvement in our marketing materials, quarterly newsletters, and reports speak for themselves.
---
After School Youth Media Program Coordinator
The After School Youth Media Program Coordinator will be responsible for designing and administering after school and summer technology and academic activities at Northwest Tower in 2005-2006. They will be responsible for creating fun, enriching and engaging activities with youth that introduce them to new academic concepts and provide creative outlets for self expression with a focus on using the digital tools we have at our disposal in our lab. Activities will be directed at both youth in grades K-8 and teenagers.
Our project accomplishments were exceptional– Taylor helped NTRC to create a solid multi-media program for youth at its Northwest Tower site, and to expand our reach into a local high school, Michelle Clark. We implemented a Hip Hop Club at Northwest Tower, where Taylor has helped to develop a digital audio and literacy curriculum, and an Apprenticeship in collaboration with After School Matters at Michelle Clark High, where Taylor designed a curriculum around digital video production.
Our community has benefitted greatly from our VISTA. They have come to know and trust Taylor and learned from his own skills how to employ digital technology tools to pursue their creative endeavors and develop their talent. We will continue to work with him in this capacity, as he has become a valuable part of our team.
---
Marketing and Outreach Coordinator
- Lead community outreach and marketing efforts
- Hold information sessions about NTRC Programs and Services
- Develop our database, track client information
- Create surveys and evaluations for users to evaluate NTRC programs
- Coordinate community groups and leaders and hold meetings including users, stakeholders, and other community members on issues related to the NTRC projects
- Market NTRC programs and services to partner organizations, Service Connectors and Housing Developments
- Create publications, press releases and newspaper articles
---