Mobile Film School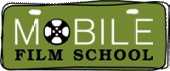 The Mobile Film School is committed to:
media arts education to rural and underserved communities, including the juvenile justice system;
creating long-term mentoring relationships by pairing students with seasoned industry professionals and educators;
providing media educators with the tools to continue local media educational programming and production; and,
cultivating a unique appreciation of local history and culture using storytelling in film.
Supported Projects
Graphic Designer
Graphic and layout design for all MFS website, print and media materials to increase professional look and branding of MFS name.
- Liaison between MFS and AIR interactive web designers and developers to enhance the accessibility of our current website
- Propose and implement a new, more user-friendly design for the website
- Develop methods for increasing user-interaction with our website and online resources
- Research and develop affordable streaming videos technologies to implement on website
- Research and implement a more efficient transaction processing system for online donations
- Assist in the development, beta-testing, and implementation of a customized database and business management software
- Regularly update and maintain all content on website
- Monitor our online social networking participation
- Help improve and develop our internet presence
Amy was the photographer and photo design editor for the Bowl-A-Roma fundraising event, the Bob Bullock Video project, and the Luling documentary workshop
Amy did the graphic layout and design for all business materials, workshops and events, including flyers, postcards, promo packets, program materials, business cards, manuals, proposals, signs, newsletters, and brochures.
Amy also did website design and development; she created page layouts and templates, icons, titles, drop down menus, picture galleries, and content.
---