Quote-Unquote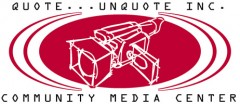 Location:
Albuquerque
,
NM
Quote…Unquote, Inc. (QUQ) has the purpose of providing a media access center for the community, including the operation of the Community Cable Channel. Quote…Unquote, Inc. is dedicated to the exercise of First Amendment rights and to providing media education to the youth of our community.
Project Description:
QUQ, the nonprofit operator of Channel 27 in Albuquerque, recently signed an agreement with the City of Albuquerque to launch a new cable TV channel, to be called Encantada TV.
Programming will include
• Visual arts
• Dance
• Music
• Sports
• Community events
As well as programming especially conceived for the South Valley including:
• English as a Second Language
• GED Completion
• Achieving Citizenship
• Financial Literacy
• Healthy Cooking
• Diabetes Prevention
• Gardening
• Public Health and Safety
• Consumer Protection
• Science Education
• Local History
The QUQ Board of Directors determined the need for this new channel because
a) Channel 27 has so many producers asking for time slots that programming is always in rotation. There are not enough hours in the week to provide time slots for all who are interested. (At Channel 27, all new producers are given their choice of any timeslot that is not live programming which receives priority.)
b) Other than the "murder and mayhem" news programs, the network TV affiliates in Albuquerque do very little local programming. So there is almost no culturally and locally relevant positive TV programming in this area. This unfortunately mirrors most communities in the country,
c) Deep media and governmental problems impact our community with a lack of representation of, and negative stereotyping toward minorities (in the majority minority population that is Albuquerque) by commercial media. Added to this is inadequate governmental and philanthropic support for NPO's that deal with these social issues.
d) As founders of a Media Arts Collaborative Charter School in Albuquerque, one of the few public high schools in the country devoted to a fully integrated media arts secondary education and located in a low-income primarily immigrant section of the City, the QUQ Board also wished to provide a TV outlet for student projects. But, as stated above, the channel is full.
Encantada TV will have a tremendous community-building effect. This is what makes it timely. In an economic downturn, we all need to work together to help each other. Otherwise, the community as a whole deteriorates as a percentage of people fall deeper into substance abuse and criminal behavior that desperation breeds.
This station will function as a positive force in the community to entertain with positive, culturally relevant programs devoted to local dance troops, local musicians and local artists and to the education of youth through the many types of programming outlined above. It aims to create individual self-empowerment and community cohesion. We know that poverty and ignorance go hand-in-hand. When children of impoverished parents can get a decent education and stay out of trouble, they have opportunities to end their cycle of poverty. Our channel will offer a great deal of valuable information available free-of-charge to motivated viewers.
As such this programming is an extension of what we already provide in the community as a hub for social activism. It will also have higher production values, and as such, we believe will attract a wider audience. This will make QUQ an even greater accelerator for New Mexico's state and local agencies and nonprofits devoted to arts, culture and community development.
QUQ is already a 30-year-old 501(c)3 that provides award-winning public access television in the Albuquerque, New Mexico, metropolitan area. As such, we offer a diverse majority-minority population a wide array of local programming and also serve as a community hub, bringing together artists and activists, as well as religious leaders from varying local and state organizations with many different missions. QUQ also provides digital video and sound production training, offering professional accreditation for Final Cut Pro video editing and the only locally available accreditation for ProTools sound editing softwares.
Because it both brings persons of many different perspectives together within its halls, and makes their television programming accessible to all cable subscribers in the area, QUQ serves as a great mixing pot and accelerator of community awareness.
Unfortunately, the City of Albuquerque is not providing QUQ with additional funding with which to operate this worthwhile venture. However, we are all tremendously inspired by the opportunity to deliver the kind of programming described above and we think the community will support this programming, despite the economic downturn, in the form of underwriting by businesses in the area, and marketing dollars from federal, state and county agencies for distribution of informational programming they may be paying to have cablecast on other channels.
Our capacity generating position for our Vista volunteer would be to serve as outreach and development assistant for Quote…Unquote, Inc. to bring new organizations and communities in to work with us.
The first priority of the VISTA member would be to create a systematic plan including methods of tracking the interaction and effectiveness of each aspect of outreach and development of the organization. This work should lead to the creation of a starter kit that can be used in the future by QUQ and serve as a model for other organizations.
Our VISTA member would also be involved in volunteer recruitment and as a fundraising assistant, working directly with the executive director.
The role of the VISTA member would be valuable experience for them in networking, community organizing and learning about the community that she/he would be working and living in.
Project Tangibles:
Development techniques and tasks are often left to volunteers who have no idea where to start and how to proceed. By creating templates for volunteers and staff, we can help others to begin achieving the incremental successes that reinforce the effort. We hope to create a model that can be duplicated by ours and other organizations for future development. Specifically, we will create a publishable document that could be used as a guide to organizing development and outreach campaigns by nonprofits.
Supported Projects
Outreach and Development Coordinator
This VISTA member, in their capacity as outreach assistant, would serve to bring new organizations and communities in to work with QUQ. The role of outreach assistant would be valuable experience for the VISTA member in networking, community organizing and learning about the community that she/he would be working and living in. It involves calling people, talking to them, sending them information by email, asking them to come to a meeting and to tour our studios.
The VISTA member would keep accurate records of contacts and the process of recruitment, as well as the steps and the results of fundraising efforts. These records would be used for the manual that would be developed in conjunction with the executive director.
Some main areas that Erica helped to develop and expand are: Volunteer recruitment/outreach, Partnership Expansion/Outreach, and Fundraising development.
Volunteer outreach: Erica has set up an entire program of recruitment of volunteers. As a result we had as many as 19 volunteer interns at one time at our facility during the fall, spring and summer months. The recruitment efforts targeted local universities and high schools. The success was due to setting up face to face meetings as well as using Craig's List, social media and e-newsletter contact. This was done in conjunction with the Executive Director.
Partnership Outreach: Erica also worked on setting up partnerships with the Albuquerque Convention and Visitors Bureau, Media Literacy Project, The Alibi (local weekly newspaper), Enlace Comunitario, SWOP, KUNM Youth Radio, Albuquerque Film Festival, SW Gay and Lesbian Film Festival, Taos Shortz Film Festival, Experimental Cinema Film Festival, New Mexico Daily Lobo, Public Service Media Project, NM Film Office, NM Thunderbirds, CitizenSchools, and the creation of an accredited production class through the University of New Mexico Continuing Education department.
Fundraising Outreach: Erica worked on many small scale and large scale fundraising efforts throughout the year. Some examples of these efforts are: "Benefit Night" fundraisers being help at T.G.I.Friday and Fuddruckers, a "TV Dinner" benefit event, a concert event at a local venue, and the development of a monthly media industry networking event held at a local restaurant. Other areas have included working alongside the Executive Director on research for and preparation of grants and foundation money. Examples of this assistance was the working on a letter of inquiry for the Glaser Foundation which focused on Independent Media projects. We pitched the creation of a youth-focused journalism and mentorship program. A letter of inquiry into the MacArthur Foundation, regarding the same project. The creation of a profile in multiple local community foundations. She did extensive research and compiling together of regional, state-wide, and national grants and foundations that could be potential sources for income. Erica also helped Steve Ranieri with researching and preparing the application for a grant through the McCune Foundation, a local foundation here in New Mexico.
Other general outreach efforts that Erica engaged in were attending various local outreach events, such as: NM Film and Media Day, Digital Arts Conference, NM Film conference, SW Gay and Lesbian Film Festival, Fiery Foods Show, and other events where the positive image of our organization was represented. All of these efforts were tracked, documented, and written into a manual titled "How to Outreach: a Resource Guide for Quote Unquote." This resource will be left behind for future staff and VISTAs to refer back to for guidance.
Two other projects Erica worked on were the transitioning of the paper newsletter to the electronic newsletter and the transitioning of the Dreamweaver based website to a user-friendly, more efficient website through the Grassroots.org services. It developed through the need of better organizational efficiency. There was an indication that some staff had additional responsibilities that were taking them away from their actual work. With Erica noticing this, she suggested making these two main transitions as a means to alleviate extra work from staff (printing of newsletters, mailing them, updating the website using software that requires skills) and to build a more sustainable infrastructure.
---